Vulcan Menu Structure for FW v1.07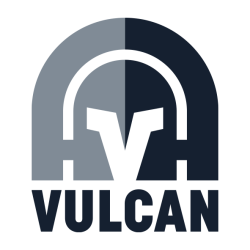 The Menu Structure below must be adhered to at all times during programming or operating of the Vulcan. Regular updates to the structure are available, so please check here prior to operation.
If you require any additional information, or require assistance with any aspect of Vulcan operating protocols, please get in touch.
Vulcan Menu Structure for FW v1.07
| | | | |
| --- | --- | --- | --- |
| MODE: | DMX | | 3 channels of DMX data: |
| | Mode 1 | |   ·  Channel 1 – Pan 0-255 |
| | 8 Bit | |   ·  Channel 2 – Tilt 0-255 |
| | | |   ·  Channel 3 – Focus 0-255 |
| | | | |
| | DMX | | 5 channels of DMX data: |
| | Mode 2 | |   ·  Channel 1 – Pan 0-255 |
| | 16 Bit | |   ·  Channel 2 – Pan Fine 0-255 |
| | | |   ·  Channel 3 – Tilt 0-255 |
| | | |   ·  Channel 4 – Tilt Fine 0-255 |
| | | |   ·  Channel 5 – Focus 0-255 |
| | | | |
| | DMX | | 4 channels of DMX data: |
| | Mode 3 | |   ·  Channel 1 – Pan 0-255 |
| | 8 Bit | |   ·  Channel 2 – Tilt 0-255 |
| | | |   ·  Channel 3 – Focus 0-255 |
| | | |   ·  Channel 4 – Head Specific* |
| | | | *If value set to 170 (or 0xAA in hex) head will move to the park position. |
| | | | |
| | DMX | | 6 channels of DMX data: |
| | Mode 4 | |   ·  Channel 1 – Pan 0-255 |
| | 16 Bit | |   ·  Channel 2 – Pan Fine 0-255 |
| | | |   ·  Channel 3 – Tilt 0-255 |
| | | |   ·  Channel 4 – Tilt Fine 0-255 |
| | | |   ·  Channel 5 – Focus 0-255 |
| | | |   ·  Channel 6 – Head Specific* |
| | | | *If value set to 170 (or 0xAA in hex) head will move to the park position. |
| | | | |
| | DMX | | Will jog the head based on the DMX value. Requires 6 channels of DMX data: |
| | Mode 5 | |   ·  Channel 1 – value >128 Pan moves +ve direction |
| | | |   ·  Channel 2 – value >128 Pan moves -ve direction |
| | | |   ·  Channel 3 – value >128 Tilt moves +ve direction |
| | | |   ·  Channel 4 – value >128 Tilt moves -ve direction |
| | | |   ·  Channel 5 – value >128 Focus moves +ve direction |
| | | |   ·  Channel 6 – value >128 Focus moves -ve direction |
| | | | * Use this mode for operation with the Vulcan Remote Controller * |
| | | | Set DMX address to '1', '7', '13' or '19' for use with controller set to 'Vul 1', 'Vul 2', 'Vul 3' or 'Vul 4' respectively. |
| | | | |
| | Local | | Will jog the head using the buttons on the keypad. |
| | Control | |   ·  Buttons to the right of the screen move the head up/down (Tilt) and left/right (Pan). |
| | | |   ·  Buttons to the left of the screen will move the focus in and out. |
| | | | |
| | Home | | Will move head to 'park' position. |
| | | |   ·  Pan at mid position |
| | | |   ·  Tilt so that the head is level. |
| | | | |
| | Reset | | Will run through the homing cycle. (Reset) |
| | | |   ·  Head will pan to max range left. |
| | | |   ·  Head will tilt to max range up. |
| | | |   ·  Head will zoom to max range flood. |
| | | | |
| DMX Input: | TYPE: | WIRED: | Input is set to Wired DMX via 5 Pin XLR |
| | | | |
| | | RADIO: | Input is set to CRMX wireless DMX via On-Board Radio Receiver |
| | | | |
| | ADD: | 101 | Set DMX Address |
| | | | |
| | RADIO: | NO LINK: | Press Sync on CRMX transmitter to Pair. |
| | | | |
| | | LINKED: | Unlink Radio? |
| | | | Enter Confirms Unlinking from current Transmitter |
| | | | |
| UNLOAD Lamp: | LAMP REMOVAL | |   ·  The head will tilt to a level position. |
| | | |   ·  The focus mechanism will run the lamp to the back of the head to allow the rear door to be opened. |
| | Press Enter to Confirm. | |   ·  Once the lamp has been mounted/removed close the door. |
| | | |   ·  Press 'Enter' to confirm the lamp is able to be return to 'home'. |
| | | |   ·  The focus will move to the home position and normal operation can resume. |
If you require assistance or would like to find out more about the MBSi Vulcan Automated PAR 18, please contact us